Have you been searching for an impressive collection of vehicles from which to choose? Reliable, luxurious, powerful, and well-priced, the Cadillac model GM vehicles are some of the market's highest-rated and safest preowned cars for their model years. Cadillac Las Cruces shoppers should consider the range of GM and INFINITI vehicles at Charlie Clark INFINITI in El Paso. Call and book a test drive today.
Why Consider A Cadillac?
The number one selling point of all Cadillac models is their pricing and ability to hold value. Unfailing in their reliability, certified preowned Cadillac vehicles run like new while maintaining a high level of luxury and comfort. Read on to find out more about various other Cadillac models.
Check Out The Incredible Cadillac CT6
With executive style and oozing luxury, the Cadillac CTS succeeds the older generation CT5 and competes toe-to-toe with the Mercedes Benz. Originally advertised via a collaboration with the Matrix film series alongside the Escalade, the CT6 has a long history of providing mid-sized and executive style to the midsized market. Sporting a V6 or V8 engine options, the sleek and contemporary CT6 model is a performance powerhouse. Check out our inventory online to see if the model you are looking for is in stock!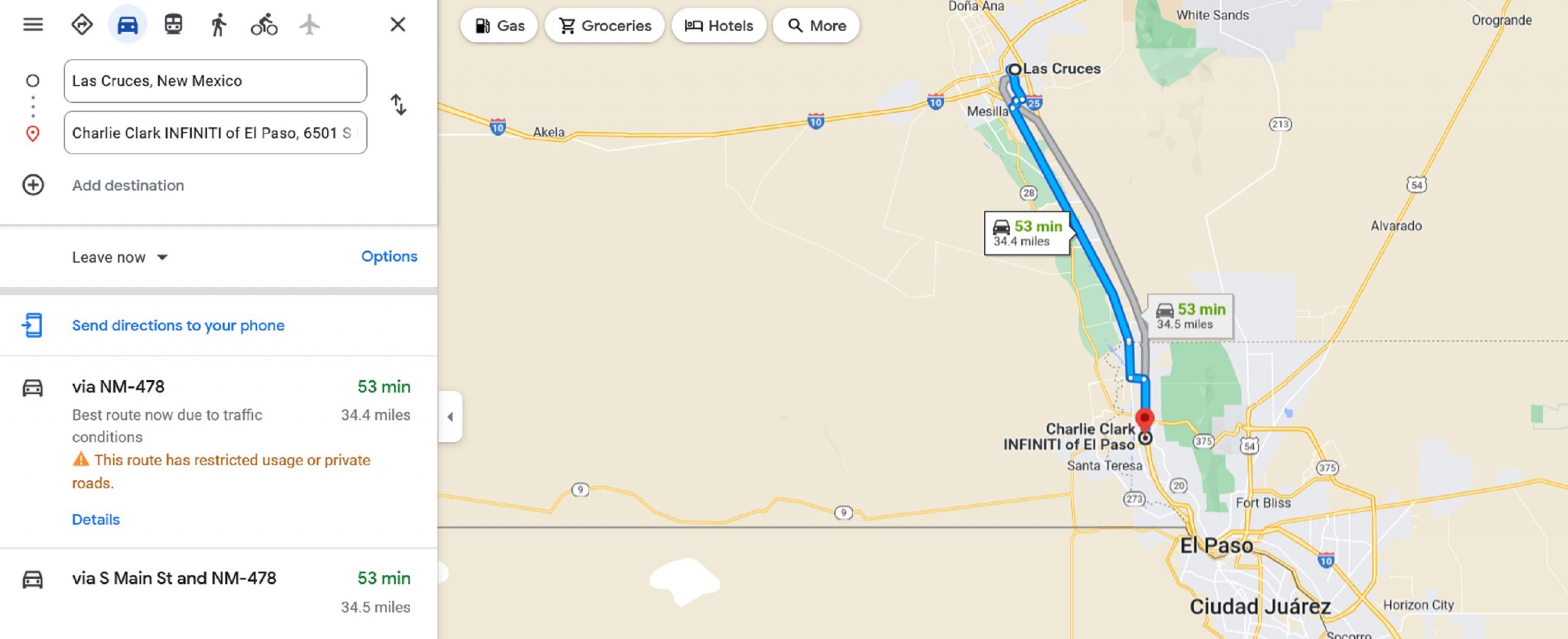 The Legendary Escalade
Full-sized and with a distinctive profile, the Escalade is the first and the premier SUV within the Cadillac brand. The Escalade is currently in its fifth generation. Despite some minor aesthetic changes, the newest year models retain the power and comfort without shorting on the amenities of older generations. Possibly one of the most customizable vehicles ever to meet the market, current Escalades are available with over 40 combinations of interior and exterior trim options. In addition, all the comforts of modern vehicles are present and standard.
Midsized Crossover Comfort With The XT4, XT5, And XT6
On average, the XT6 is more expansive than other mid-sized crossover models. Referred to as mid-sized 'plus,' it provides a powerful medium between the large Escalade and full-sized sedans. The XT5 is slightly smaller than the XT6. It offers better gas mileage than its more prominent family members while still allowing for the utility of a crossover. The XT4 is the smallest of the crossover family and boasts a slim profile with a 2.0, four-liter engine.
Other Cadillac Models
Cadillac has several models covering all sizes of luxury cars, from compacts to full-sized SUVs. • SRX- Mid-sized SUV and luxury crossover. • CTS- Predecessor of the CT5 and CT6 available in coupe and sedan. • ATS- Compact, executive-style sedan. • CT4- Modern successor of the ATS • ELR- Compact, plug-in hybrid
Check Out Charlie Clark INFINITI in El Paso
Whether you are looking for a preowned Cadillac or another brand, come on down to Charlie Clark INFINITI in Las Cruces. Our online store is updated multiple times daily with new and used cars. You can call and speak to one of our fantastic representatives for the current inventory. Expect the best from Charlie Clark INFINITI, and consider us for your next new or preowned vehicles.
Call, Contact or Visit Us Today.