The Land Rover brand is known for its rugged exteriors and lines of robustly powerful SUVs. Luxurious and balanced in terms of price, there is a Land Rover or INFINITI vehicle for everyone. Land Rover Las Cruces shoppers should consider INFINITI and pre-owned Land Rover vehicles at Charlie Clark INFINITI.
Current Land Rover Models
The current lines of Land Rover SUVs vary widely in utility and style: • The Range Rover is the flagship vehicle with four trim variants. • Defender is an offroad beast of an SUV with four-wheel-drive capability. • The Discovery and Discovery Sport are both subcompact SUVs with different uses.
Read on for more detail about the benefits and utility of each model and offshoot of Land Rover Vehicles.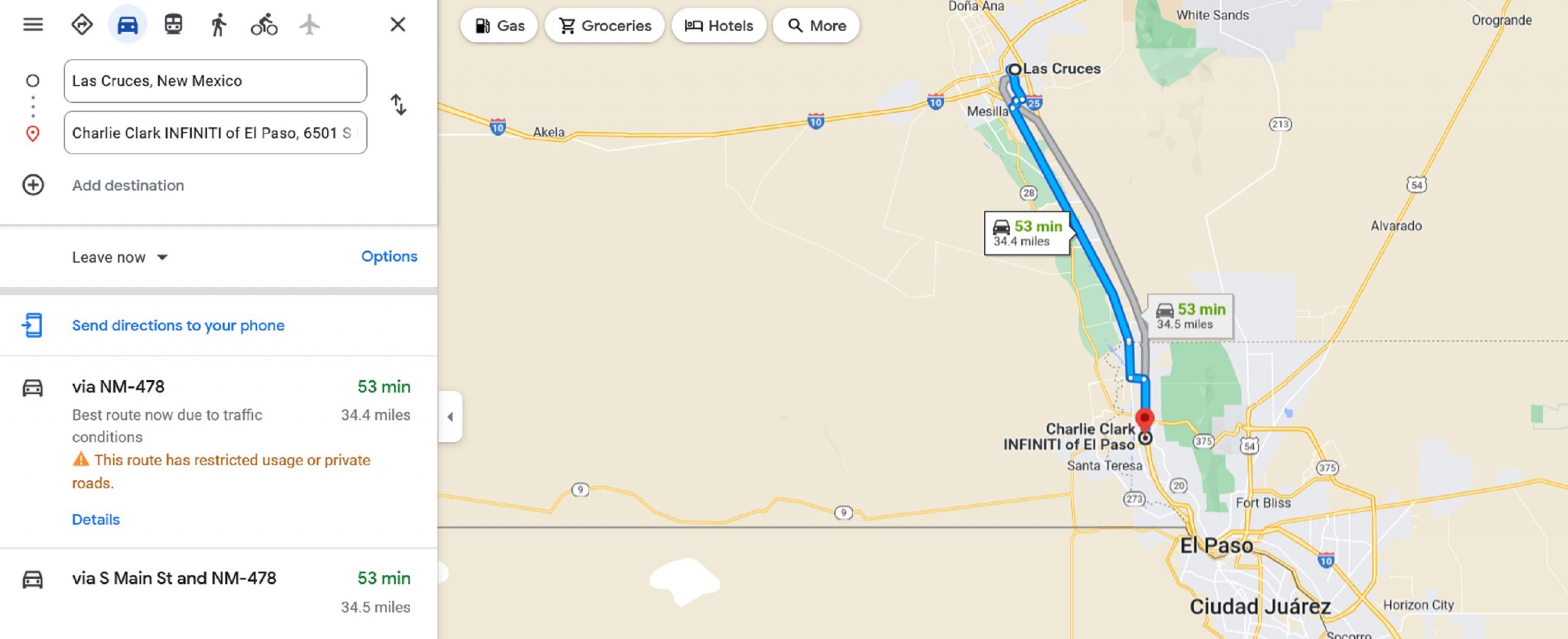 Range Rover Line Details
Currently, in its fifth generation, the Range Rover line of vehicles is utilitarian with a distinctive look and function as a classic sport utility vehicle. The standard Range Rover has several different wheelbases and is available with up to seven seats and a plug-in electric hybrid model.
The Range Rover Evoque is the smallest and a subcompact SUV option under the same umbrella. While it has solid offroad abilities, the Evoque lacks the power of larger models. It is a competent vehicle that easily transitions between city and rugged offroad capability.
The Velar is a great crossover, more immense than the subcompact Evoque but smaller and less potent than the base Range Rover. While the towing capacity of the Velar is little more than half of the standard for full-sized SUVs, it performs well off-road and has ample interior cargo space.
The Range Rover sport is the most powerful of the bunch and is a great, powerful, and fast mid-sized SUV. Sporting a 5.0L Supercharged V8 in the newest of models, it has the power to haul up to 7700 pounds.
The Offroad Defender
Spacious and known for power, the epic Defender has many critical differences in trim. Even smaller engines perform well, and the much larger diesel variants are aggressive and assertive on paved roads or rugged trails. The four-wheel drive standard on all Defenders harkens back to the original intent of the sport utility vehicle.
The Practical Discovery And Discovery Sport
While other Land Rover models lean heavily toward luxury, the Discovery offers a lower-priced, more practical alternative. Dozens of interior options and configurations are available, with the sport having a lower horsepower, turbocharged engine. While it is missing out on multiple interior options, the Discovery and Sport models are suitable for both utility and as a family car. Trim options on the Discovery range from mid-sized to full-sized models, ensuring that there is a version available for everyone.
Check Out Charlie Clark INFINITI Las Cruces For All Your Shopping Needs In El Paso
Preowned Land Rovers are often available at Charlie Clark INFINITY. Check our up-to-date inventory online or call to schedule a test drive today! Our professional staff is available to help find you your perfect car. Consider an INFINITI from Charlie Clark as an alternative for your next SUV purchase.
Call, Contact or Visit Us Today.