Choosing between the 2022 Infiniti Q50 and the BMW 3 Series is a tough decision. Both vehicles bring a lot to the table in terms of comfort, style, and luxury. In addition, you'll get a sporty, compact feel with both, augmented with a sleek design and top-notch manufacturing. These compact executive cars hold tremendous appeal on their own. However, their standout qualities show significant differences.
Performance
The Q50's standard 3.0L turbo V-6 produces 45 more horsepower (300HP vs. 255HP) and 1 lbs.-ft. more torque (295 vs. 294) than the 330i's standard 2.0L turbo 4-cylinder. The Q50 Red Sport 400's standard 3.0L turbo V-6 produces 18 more horsepower (400 vs. 382) than the M340i's standard 3.0L turbo V-6 hybrid. That's packing a lot of power and potential torque into a compact sedan. With the Q50's Intelligent AWD system, you have control as the driver and can send up to 50% of available power up to the front wheels for better traction. You'll enjoy sharp handling, a refined turbocharged engine, plus a responsive automatic transmission for a dynamic driving experience.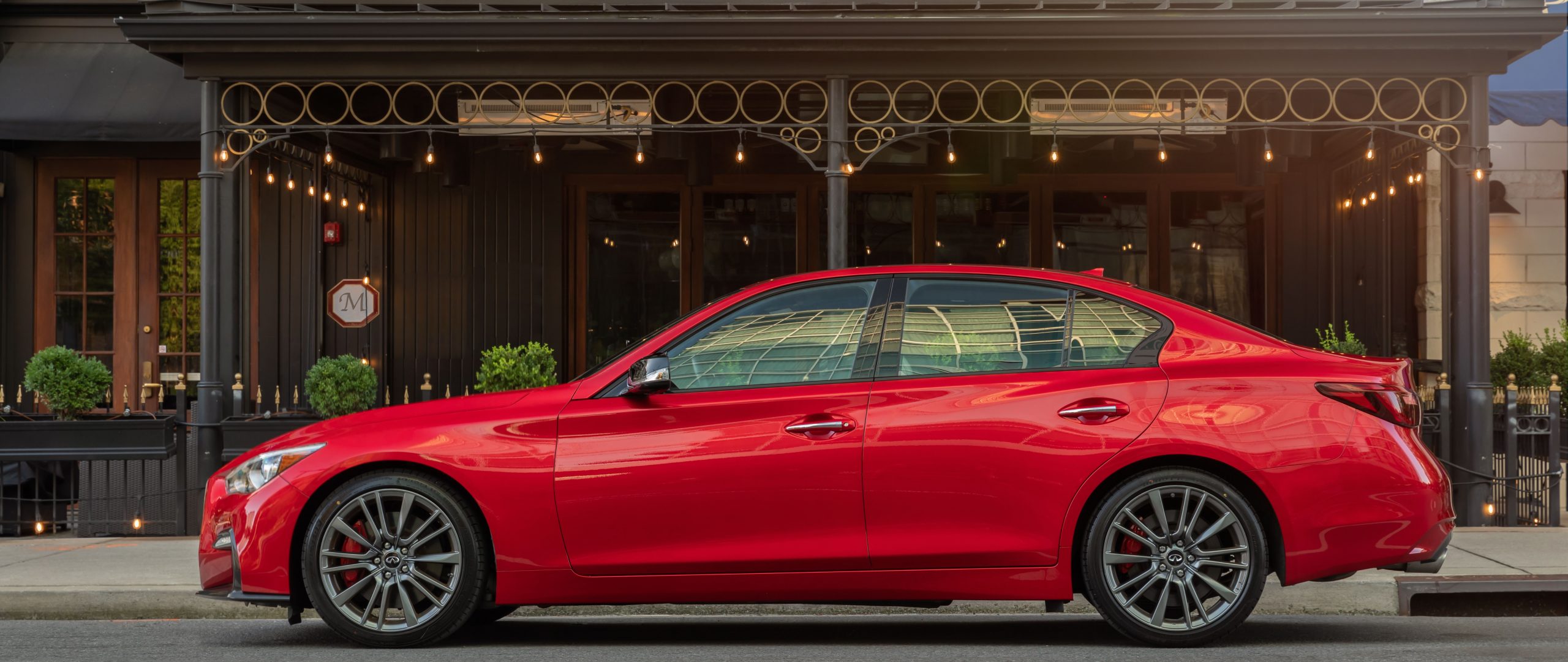 Infiniti Q50
Comfort and convenience
The Q50 has 1.5 inches more front headroom, 2.5 inches more front legroom, .7 inches more front shoulder room and 1.5 inches more rear shoulder room than the 3 Series Sedan. Similar cargo sizing can be found with the Q50 and the 330i. While the BMW 330i presents you with 13 cubic-feet of cargo space, the Infiniti Q50 provides you with a little extra space thanks to the maximum cargo capacity of 13.5 cubic-feet. With the BMW 330i sedan, you can enjoy amenities like the SensaTec upholstery and Anthracite headliner, but for an upgraded experience, consider sliding behind the wheel of the Q50. The Q50 Sensory/Red Sport 400's standard easy entry system raises the steering wheel and glides the driver's seat back when the door is unlocked or the ignition is switched off, making it easier for the driver to get in and out. The 3-Series sedan doesn't offer an easy entry system. In addition to the easy entry system in the Q50, you'll get to embrace amenities like the Infiniti intelligent key, dual-zone automatic temperature control, and a sequential welcome lighting entry system.
Technology package
The Q50 sedan continues to be easy on the eyes throughout its modern interior. Confident design elements include long angled lines that stream down the center stack and high-end materials. The dashboard holds stacked digital display screens that grant access to the navigation system, Bluetooth, Apple CarPlay, and many other features. The BMW 3-Series takes a different approach with a layered look across the dashboard. The top layer holds the infotainment system's display screen. Air vents and climate management controls follow this.
Safety features
Both the Q50 and the 3 Series Sedan have standard driver and passenger frontal airbags, front side-impact airbags, side-impact head airbags, front seatbelt pretensioners, four-wheel antilock brakes, traction control, electronic stability systems to prevent skidding, crash mitigating brakes, daytime running lights, rearview cameras, available all-wheel drive, lane departure warning systems, blind spot warning systems, around view monitors and rear cross-path warning. For enhanced safety though, the front seat shoulder belts of the Infiniti Q50 are height-adjustable to accommodate a wide variety of driver and passenger heights. A better fit can prevent injuries and the increased comfort also encourages passengers to buckle up. The BMW 3-Series sedan doesn't offer height-adjustable seat belts.
Price
While the MSRP comes in slightly higher for the Infiniti Q50 at $44,100 compared to the BMW 3-Series at $42,950, you must consider all the costs that come with owning one of these two vehicles. According to The Car Book by Jack Gillis, the Q50 is less expensive to operate than the 3-Series sedan because it costs $63 less to do the manufacturer's suggested maintenance for 50,000 miles. Typical repairs cost much less on the Q50 than the 3- Series sedan, including $510 less for a water pump, $294 less for a muffler, $91 less for front brake pads, $136 less for a starter, $89 less for fuel injection, $41 less for front struts and $470 less for a timing belt/chain. Insurance will also cost less for the Q50 owner – the Q50 with a number "1" insurance rate, while the 3-Series sedan is rated higher, at a number "3" rate.
Get quality customer service at Infiniti of El Paso
When you shop with Charlie Clark's Infiniti of El Paso, TX, you get to work with a knowledgeable and friendly sales team dedicated to ensuring you are informed and satisfied with your purchase. Read the many customer reviews that have been left about their sales experiences. Shop ahead of time by viewing our new and certified pre-owned inventory online. Open 9am-9pm Monday through Saturday, our staff is available to show you the Q50 inside and out. Take a test drive. Take command of your driving needs behind the wheel of a new Infiniti Q50!